SG. Xavier Henry 6-6' 220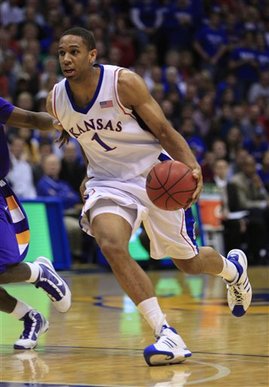 Xavier Henry - via nbadraft.net

Pros-
Eighteen year old freshman with an effortless, fluid style ... His body is NBA ready - built like a freight train possessing tremendous strength ... Ideal frame for a shooting guard or small forward at the next level. Naturally gifted scorer (28 ppg as a HS senior) with a deadly shooting eye. Prolific shooter from beyond the arc with tremendous range. Pure stroke with a quick, smooth release. No hitches ... Uses his legs very well on his shot getting good lift ... Effective slashing to the hoop where he can attack the rim and seek out contact ... Finishes extremely well, shrugging off defenders with ease ... Gets to the free throw line regularly and is automatic. Active on the glass ... Can be a terrific rebounding wing with his strength and freakish wingspan (6.7 per game in 2009 and 7.2 in 2008) ... A thief when playing off the ball defensively, reading passing lanes and intercepting passes (1.7 spg through his first seven collegiate games). Refreshing positive attitude on the court. Always smiling, seeming to truly enjoy the game of basketball ... Hard worker and very coachable, which is rare for a player of his stature.
Cons-
A strong athlete but not an elite level athlete ... Does not possess explosive speed, quicks or leaping ability, although his leaping ability is better than his foot speed ... His first step is mediocre and his face up game lacks creativity ... His options are limited when he puts the ball on the floor and is quite predictable ... Ball handling needs to improve drastically. Turnovers have been a bugaboo early on at 2 per game ... Needs to develop his right hand. Too left hand dominant on the dribble and on the finish ... Settles for too many long range shots. Should take advantage of his strength inside and attack more. Lack of comfort in the post game. He has the physical edge against any college SG or SF and would be wise to exploit it ... Defense runs through positive and negative patches. At times plays with excellent passion, and other times appears to be going through the motions ... Lateral quickness is not ideal, but his strength and length can mask that deficiency.
What Kings get - We get probably the best shooter that's coming out of this years draft.  A perfect 2-Gaurd to play alongside Reke.  He & Reke are like 2 peices to a puzzle, Reke's the drive & he's the shoot. If you watched the end of the video, then you'll know what I mean.
Roster
PG- Reke - Beno
SG- Henry - Garcia
SF- Greene - Casspi
PF- Landry - JT
C- Hawes - JT