Apparently, the Warriors read my post about Wesley Johnson, because rumors around the league are declaring that the Warriors trading Anthony Randolph and the 6th pick to Minnesota for the 4th pick to nab Johnson. Various sources are insisting that the deal will only take place if Johnson is on the board at #4. The most intriguing part of the rumor seems that Minnesota is the one seeking to move back, after openly expressing excessive interest for moving up to #2 for Evan Turner. This could mean two things: 1. Nothing but a smoke screen  or 2. It's time to speculate how this new information affects us on draft day. For the sake of providing a FanPost worthy of being read, let's stick with option 2.
In the spirit of Finals week, I thought I would be the one to create a test of the options that each team faces in this month's upcoming draft and explain each answer I have.  Spoiler Warning: Slowly scroll down as you read if you do not want to know the answer before you read the question.
1. With the 1st pick in the 2010 NBA Draft, the Washington Wizards...

    a. Select John Wall
    b. Select John Wall
    c. Select John Wall
    d. All of the Above
This answer is a given, like writing your name correctly on the SAT test.  Unless Agent Zero pulls a gun on Ernie Grunfield and threatens to shoot him if he does not pass on Wall, John Wall will be the 1st pick of the 2010 NBA Draft.
Answer D. All of the Above

2. With the 2nd pick in the 2010 NBA Draft, the Philadelphia 76ers...
    a. Select Evan Turner
    b. Select Derrick Favors
    c. Select DeMarcus Cousins
    d. Package Turner with Brand's Contract to Minnesota
This answer is a little more tricky.  Let's look at each option:
Evan Turner remains the consensus 2nd best and most NBA ready player in the draft, but the 76ers recently scheduled a face-off between Favors and Cousins.  While Favors is sushi-raw, he draws comparisons to Dwight Howard with his athleticism and contains a great amount of upside that may enamor the 76ers front office, but the 76ers may believe that Cousin's red-flags are worth ignoring to grab the most talented big man who may be the best fit with their team.  They have been openly offering the 2nd pick to anyone willing to take back Brands contracts, but so far, there have been no takers. I don't see any team taking on Brand's contract, and based on reports of a meeting between coach Doug Collins and Iguodala about AI's future as a star on the team, the 76ers seem to be relying on the epic battle between Cousins and Favors. I believe Coach Collins makes a big splash and selects, the man who sleeps 15 hours a day,DeMarcus Cousins with the 2nd overall pick.
Answer C. Select DeMarcus Cousins

3. With the 3rd pick in the 2010 NBA Draft, the New Jersey Nets...
    a. Select Evan Turner
    b. Select Derrick Favors
    c. Swap Picks with Minnesota for Evan Turner
    d. Select Wesley Johnson
With John Wall and DeMarcus Cousins off the board, the obvious selection seems to be Evan Turner.  Although a Favors and Lopez duo would be dynamic for years, I believe that Turner is the only option here as the Nets' mob boss of an owner continues of dreaming of a Turner-Lebron duo.
Answer A. Select Evan Turner

4. With the 4th pick in the 2010 NBA Draft, the Minnesota Timberwolves...
    a. Trade pick of Wesley Johnson to Warriors
    b. Select Wesley Johnson
    c. Select Derrick Favors
    d. Select Eric Bledsoe
While drafting another PG would not be out of the ordinary for Kahn, I will forget about watching Eric Bledsoe play with Rubio for now.  With a congested frontcourt, I do not envision the Wolves taking another Forward unless they can rid themselves of either Kevin Love or Al Jefferson.  The selection of Wesley Johnson is possible, but I ultimately see the Warriors doing everything they can to sweeten the deal to nab Wesley Johnson before we have our chances at him.  Answer A. Trade with Warriors. Anthony Randolph, #6 Pick to Minnesota for #4 (Wesley Johnson)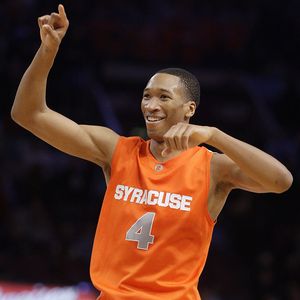 5. With the 5th pick in the 2010 NBA Draft, your Sacramento Kings...
   a. Select Derrick Favors
   b. Select Greg Monroe
   c. Select Al-Farouq Aminu
   d. Select The Next GP Mystery Man
If we were put in this position, I will probably be the second happiest person on STR, besides Pookey.  I can't imagine Petrie passing on Favors, but I am only contemplating, because we all know that no words out of our front office will reach us until our David Stern calls his name.  Do me a favor Petrie, no surprises this year. 
Answer A. Select Derrick Favors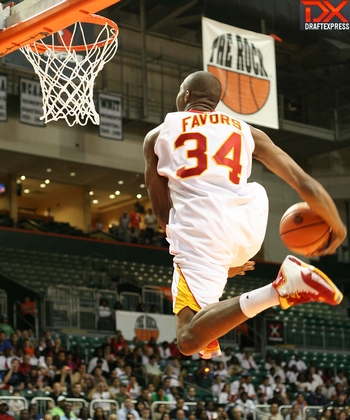 That concludes my exam.  This is all speculation and little bias, even though I would be thrilled with this result. How did I do? I created the test, but you're the teacher so what's my grade? haha Poll time!