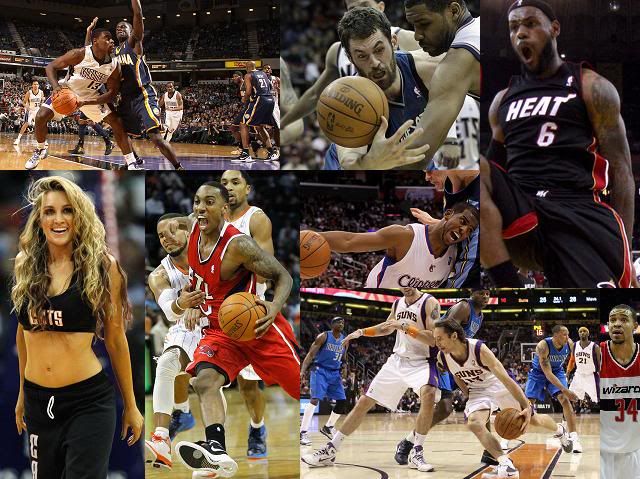 For reference sake, here are the current rosters. The following is the list of team owner's StR usernames along with their respective teams.
· Wallywagon11 - Kissing Cousins
· J.R 50 - RudyGay and Chardonnay
· LightningStrike5 - Royal Court Jesters
· Juan Primo - Team Primo
· AnotherStupidSN - Burkle's Bombers
· Clicc916 - Travis. Rised the Hot, Hand
· Tomroadrunner - Lvl. 39 Vlade's Beard of Truth
· Sillysill - You Won't Fredette Me
· Rise_to_mediocrity - Team Stern
· Aykis16 - Welcome to Jimmerica!
· (The Lurker) - Tig Ol' Bibby's
· TheJust - Crappy Club for Jerks
Below is a recap of the comings and goings of the first half of the Unofficial StR Fantasy Basketball League season.
STANDINGS
As you can see here, four weeks ago Juan Primo got out of the gates early and was in the lead. Since then, there have been about a million trades, he's stuck in a quagmire, and is he is now officially FANTASY'S DAN GILBERT. Currently, your lovely narrator has jumped out to a pretty big league in the All Purple Everything Division while the Lurk is the current leader in the Back in Black Division. There are still 6 weeks left but it seems pretty clear there is a glut of about 9 teams right now fighting for the 4 playoff spots with 3 that are going to have to have a pretty difficult time coming back from their current holes.
NOTABLE INJURIES
The biggest injury blows so far this year were Al Hortford and Andrew Bogut. Hortford's pectoral tear has knocked him out of the entire fantasy basketball season and left Clicc916 with a gaping hole in his lineup. Then there was Andrew Bogut's broken ankle which put a dent into Aykis16's big man strategy.
(As I am writing this it appears that Billups may have suffered a career threatening torn Achillies.)
Then there is TheJust's squad. When he's not busy trading for Amare's knee and Curry's ankles (get to these later) he's waiting on some of his star players to get healthy quick. Eric Gordon is still out with his mysterious knee ailment and could miss another three weeks or even more for all we know. Meanwhile, Zach Randolph is still recovering from a torn MCL but there have been no known setbacks and he is expected to be back by the first week of March. TheJust is in a tough spot but if he can somehow find a way into the playoffs, his team can be considerably stronger right when it matters.
Then there was Andrea Bargnani's reinjured his calf in late January. There is no timetable for his return and is putting ASSN's team in a terrible bind. Meanwhile, Manu Ginobili has been out with a fractured hand since Jan. 2 but is currently on pace to return before the Spurs' upcoming nine-game road trip ends so Juan Primo should be enjoying some elite production fairly soon. As for my team, Brook Lopez began running for the first time on Monday and is still expected to return by mid-to-late February.
(I was trying to shorten up my roster a bit, but plans just changed given that as I am writing this Danilo Gallinari has apparantly suffered an ankle sprang that inclues a "chip fracture" in his foot which means he can be out for a month or perhaps longer. Yay! Oh, and Stephen Jackson isn't hurt, he's just collecting DNP's like he's Jimmer. There has been some speculation about him potentially teaming up with Dwight Howard in New Jersey but as of right now the most fantasy relevant thing he is doing is Tweeting that he isn't injured.)
And then there is SillySill who is struggleing with some notable guard injuries. Currently there is no timetable for D.J. Augustin's toe injury; however, considering SillySill was able to pick up Kemba Walker he's doing okay there. Unfortunately, sticking with Baron Davis through the first half of the season hasn't panned out as now it is being reprted that Baron had a new setback triggered by an elbow infection that somehow hurt his back more (?) and is out indefinitely.
Other notable injured players: Jason Kidd, Andray Blatche, Carl Landry, Gerald Henderson, Marshon Brooks, George Hill, Jammer Nelson, Devin Harris.
TRADE MADNESS
Jan 17th: Clicc916 trades Jameer Nelson to the Lurker for Emeka Okafor.
Jan 18th:Tomroadrunner trades Amare Stoudemire and Josh Howard to TheJust for J.J. Redick and DeJuan Blair.
· This trade was a huge shocker and a game changer for the league. Within the first 24 hours there were five veto votes (need six to void a trade), the league message board had blown up, and Juan Primo started writing in comic sans (I kid I kid). However, there was never a sixth vote, Tomroadrunner explained how there was no foul play and that he was just new to fantasy basketball, and the trade went through.
Jan 19th:Tomroadrunner trades Carl Landry and Stephen Curry to WallyWagon11 for Brandon Knight and Marreese Speights.
· I made this trade offer immediatly after I saw the Amare trade. I noticed that Tomroadrunner might have been mixed up by the 15 day player rater so I made whatever offer I could that looked even on that.
Jan 27th:Wallywagon11 trades Stephen Curry to TheJust for Greg Monroe.
· For those who remember that I traded TheJust to Greg Monroe earlier in the year, he basically switched out Mike Conley for Stephen
Jan 27th:Wallywagon11 trades Anderson Varejao and Tyrus Thomas to the Lurk for Ricky Rubio and Chris Kaman.
Jan 31st:ASSN trades Jose Calderon and Anthony Morrow to Tomroadrunner for Paul Millsap and Stephen Jackson
Jan 31st:Wallywagon11 trades Drew Gooden and Jarret Jack to Tomroadrunner for Andrew Bynum and Brandon Knight.
· Same strategy as before only I was worried that other team owners were thinking the same thing so I was okay giving a little more this time.
Feb 4th:Wallywagon trades Andrew Bynum and Brandon Knight to ASSN for Pau Gasol and Stephen Jackson
Feb 5th: The Lurk trades Travis Booker to ASSN for Gordon Hayward.
TOP 10 FREE AGENT ACQUISTIONS OF THE SEASON
1. Ryan Anderson- Picked up by Tomroadrunner at the beginning of the season, he is currently the 12th highest ranked player in 9 stat leagues and can carry an entire team at 3s while not hurting your FG% and providing RBS, FT%, STL, and not hurting you in turnovers.
2. Drew Gooden- Traded to Tomroadrunner, Gooden is a 16-9 threat with decent FT% and now PF/C eligible and might end up giving Ryan Anderson a run for the number 1 spot on this list when it's all said and done.
3. Mo Williams- With Chauncey Billups likely done for the season, the Clippers will be depending on Mo Williams to be Chris Paul's wing man in the backcourt. Considering how shallow SG is this year and the fact that Mo Williams has PG/SG eligibility, he's a great pickup for ASSN.
4. Al Harrington - Not much is known about Gallo's injury right now but J.R 50 should be getting top 50 production for the next 4 weeks at least and even if/when Gallo returns Harrington is still very much roster worthy.
5. Spencer Hawes- He'd be great for ASSN if he can stay healthy but Achillies tendonitis on a seven foot person isn't likely to end well.
6. Jeremy Linn - This could end up being the worst call of the bunch but definitely a make or break player for the Lurk. It's still early, yes the guy had 0% ownership just days ago but he is currently the starting PG in New York's crazy offense and he is producing. Crazy stuff and no clue what direction this is going.
7. Tiago Splitter- One injury in the Spurs frontcourt and Splitter can vault to the top of this list and getting enough minutes to be valuable now even though there are no injuries. Great pickup by Aykis16.
8. Greivis Vasquez- Nobody knows what will happen when Gordon gets back but considering we do not even know if Gordon will be back, he's doing a great job at assists and 3s and should be SG eligible soon. Another great pickup by the Lurk.
9. Rodrigue Beaubois- Averages almost a block in just under 18 minutes. And he's a PG. Who hits threes. And scores in bunches. And is PG/SG eligible. Only thing standing in the way of this being higher on the rankings and being a huge contributor for TheJust is whether he gets minutes in a crowded but often injured backcourt.
10. Nikola Pekovic- He stole the starting center spot from Darko and basically puts the ball in the basket and rebounds like a crazy person with a horrible tattoo. Oh and there's this quote from Kevin McHale describing his game.
"Pek's very rugged. He's used to rolling guys out, hitting guys. Guys in our league flop and hold and do all kinds of stuff. I bet he must have had million pick and roll offensive fouls last year. ... He sets screens. He hits people. I imagine he ran down the court last year and ran into people and they fell down, and he was like, 'That's what they're supposed to do when I hit 'em.' ''
Oh and this.
Honorable Mention: Marshon Brooks (injured and stashed away by LightningStrike5); Bismack Biyambo (picked up by LightningStrike5 and in his first start had a double double with 2 blocks); Travis Booker (ASSN's hustle machine who will rack up boards and blocks while Andre Blatche is out); Marcus Camby (doing Marcus Camby like things for Clicc916 but who knows how long until he's hurt)
FAVORIITE NON KINGS PROMO
BEST LEAGUE PHOTOSHOP - by ASSN
"I'm on a horse."
LEAGUE SURVEY [with some edits]
1. Favorite Draft Day Acquistion?
Aykis16: On Draft day itself, I was thrilled to land my main guy, Dwight Howard. Having Howard on your team guarantees that your team will lose the FT% battle every week. But he also singlehandedly has a huge impact on FG%, REB, BLK, and PTS. I've also been very pleasantly surprised by Monta Ellis. I originally had bid for him in order to force someone else into a higher bid, but nobody bit and I ended up with him. But he's been great for me. He's having a career year assisting the ball, and he scores and steals at a high rate.
LightningStrike5: Kevin freaking Love. Love him. He really has saved my bacon with his "I own five catagories" approach. Wallywagon11:I was not the biggest fan of my draft but if I have to pick Chris Paul. I actually wasn't expecting to get him and only bid to keep everyone else honest. I told myself before the draft that nobody was worth $80 and I thought I might be able to get Derrick Rose for less and if not then target Deron Williams. Immediately after Rose went for $82, Chris Paul was nominated and I was ready to target Deron Williams. But when I bid $76 on Paul nobody else bid and thank goodness because I think I would have been stuck in a bidding war for Deron. And after I got Paul I was able to get three other quality PGs on the relatively cheap. Granted I considered talking about them but to be honest right after the draft I really felt like I needed to make a lot of moves and kind of thought of everyone but Chris Paul, Joe Johnson, Gallo, and Ibaka as expendable and I didn't get any of those other guys on the cheap. Didn't hate the picks mind you, just knew I needed to tweak but they at least had value (for the most part).
J.R 50: I was auto drafted, but my favorite players that i was most pleased with seeing was the 3 headed PG dragon of Westbrook, Rondo and Jennings.
Lurk: I was hella excited to draft Lebron James because I have never been able to get him in a regular draft. I also got Hedo for $1 and even though I had no money was able to get Rubio for cheap.
Clicc916: Easy. Darren Collison for $3. Though not a great player, he's been a fairly reliable PG. His per-game stats are: 33.6 minutes, 10.8 points, 3.4 rebounds, 5.4 assists, and 0.9 steals. Like I said - not WOW material but over the course of an underperforming, injury-riddled season, he's been my bang-for-the-buck rock. Second mostest favorite acquistion has to be Marc Gasol at an extremely fair $14. It seemed I would have to punt blocks with my drafted team but he's been a monster this year with blocks. Thanks to him, and the addition of some other complimetary players, I'm one of the better teams with blocking this year.
ASSN: It's interesting to look back on the draft and see how different my team is now, how the guys have all performed, what I'm getting and not getting for all of that "money" I spent. I'd say the main pick that I felt good about at the time and ended up being even better than I'd hoped was getting Bargnani for $10. I knew he was someone I'd target in the draft, and I kept hoping everyone else would forget about him and he wouldn't get put up until a lot of the money had been spent. By the time he finally came up, it was only me and Primo bidding for him and I was lucky that Primo decided to have mercy on me and continue hoarding his auction bucks, because he could have easily bled me empty bidding on the big Italian. As it was, $10 for 23.5ppg on 48% shooting with 1.4 threes per game.
Biggest Draft Day Dissapointment?
ASSN: I'd say my biggest disappointment this year has been Andrea Bargnani. I always thought that "Andrea" was actually a man's name in some countries, but apparently not in this case. My best scorer when he plays (one of the best in the league, actually), Annie apparently tripped on his dress against Sacramento and stuck me with the dreaded "prolonged day-to-day injury" for several games, giving me a dead roster spot for entire weekly matchups and no clear picture on when he'd be back. His sprained mammary finally felt well enough for him to return, scoring 61 points over two games, at which point he decided to go on indefinite maternity leave. At least this allowed me to put him on the IR, but it would be nice to have some prognosis of a return date. Other injury troubles include Spencer Hawes, who is apparently actually an 82-year-old man that just looks like he's 23. Mr. Hawesome has gone almost the entire season as a "gametime decision" that has invariably meant another DNP, killing another roster spot because he hasn't been taking his Centrum Silver and getting to bed at a decent hour. Also, I'll be looking to trade Spencer Hawes to anyone that doesn't read this, so wish me luck. I don't really have any huge draft disappointments, other than seeing all of the guys that I totally should have bid harder on. I definitely could have consolidated what I spent on a lot of my "low cost" guys to grab at least one more good player and then fill-in my roster with guys that fell through the cracks. I had to spend $40 to get Tyreke, which is probably just a tad high, but I really wanted to get one of the Kings players and he's actually been maybe my best overall player this year, especially now that he's getting many more assists and not clanking a bunch of free throws.
Wallywagon11: Omri Casspi. Super cheap pick but still a complete waste and really screwed me up because I was pulling SG/SFs off the waiver wire when I knew Ryan Anderson was legit if he just got minutes (and no way he wasn't with Glenn Davis being the only stumbling block)
Clicc916: Well, since I wasn't there at the beginning of the draft (my fault), I wasn't able to dictate where my big money was spent. The computer drafted Kobe Bryant, John Wall, and Lamar Odom for me before I was able to take over. You have to realize that I spent $120 of my $200 allotment on these three guys. It goes wtihout saying that my least favorite "choice" was Lamar Odom for $24. I don't need to go through the horror of explaining how underwhelming Odom has been for me. He's so bad I don't even have him on my team now. I will need to erase him from my mind. Puke. A strong second would have gone to Jameer Nelson, but since I got him for $4 ...eh...water under the bridge, you know?
Aykis16: As for guys who haven't been good for me, Corey Maggette was a huge mistake. I picked him up thinking he'd be the best player on a bad team in Charlotte. Well he's not, and he's been injured, so I just dropped him. Also, Jimmer wasn't doing that great at the beginning, but he's started to heat up which is nice. He could be averaging 0 points on 0 for 10 shooting a game and I wouldn't drop him however because Jimmer, Jimmer, Jimminy Jimmer. Also, Jimmer [Aykis just dropped Jimmer this past weekend].
LightningStrike5: Deron Williams, although he's been really picking it up lately.
Best and Worst Roster Moves After the Draft
Clicc916: Which move am I happiest with? I got Emeka Okafor for Jameer Nelson. Both names may not jump out at you, but Nelson has not been up to snuff this year and I needed more center-oriented stats (rebounds, blocks, FG%) so that worked out just fine for me. I thought highly of Nelson going into the draft. I had hoped that he'd be able to give me 3PT and assists, but the suck that exists in Orlando was just too much for Nelson to overcome. Tig Ol' Bibby actually offered me the same trade earlier in the year but I declined since I "knew" he was going to bounce back at some point in the year. Others also tried to acquire Nelson but I declined until I was ready to give up on him. Much like Odom, I just don't think they'll be able to come around this year. Biggest move I made that was a mistake? The worse move I made (outside of not being at home for the beginning of the draft) was dropping Brandon Knight. I am embarrassed to say I dropped Knight to pick up Gary Neal. At the time, it seemed like a good idea—Knight was coming off the bench for the Pistons and Manu Ginobili had just gone down with an injury. Neal was coming back from injury and I thought he'd have similar stats to last year…Alas, Neal didn't work out and Knight became a starter. Knight's not going to dominate in stats, but he's fairly consistent now. Would it be inappropriate to insert a reference to a Katy Perry or Adele song here?
LightningStrike5: Sam Dalembert. I hated picking him up, the damn traitor, but he's been exceptionally solid for me. Helped me round out my rebounds and start improving on blocks.
Lurk: I picked up alot of guys I liked. I just wish I as able to keep Marshon Brooks but am happy with Jeremy Lin and Pekovic. Keeping Byron Mullin as long as I did was a waste of time. I also made a stupid trade where I gave up Emeka Okafor for Jameer Nelson. Chris Kaman had just had a few good games and I thought Emeka was going to lose his job so I screwed that one up. I recovered though and got Varejao and Tyrus Thomas so if Jameer improves I should be okay.
ASSN: I do have a couple of post-draft acquisitions that have turned out really well. I grabbed Paul George off of the waiver wire and he's turned out to be a great all-around player. He's not a huge scorer (other than the 30 points he had the other night), but he shoots a good percentage and contributes well in pretty much every category. I also grabbed Richard Jefferson and Mo Williams off of the FA list and they've both been consistently dumping in threes and helped to make it the strength of my team. All-in-all, I feel pretty happy with my team even though I'm hardly tearing up the league (though, doing much better recently). I've sort of become addicted to looking for big trades, though, so there's a good chance I'll ruin everything at some point.
J.R 50: Favorite trade has been my only which brought me Joakim Noah and Thaddeus Young, Young was initially a filler at 30% owned and now is at 100% and i a solid contributor to my team. Some Ppckups I loved: Al Harrington probably my best pickup, and of recent my Stuckey, Prince, and looks like Fields pickups are turning out to be amazing adds. There were alot of free agent pick ups i was considering, went to sleep. woke up and someone took em, luckily not all panned out but.
Aykis: My favorite pickup so far has been picking up Tiago Splitter after dropping Derrick Favors. Splitter has been very effective, I just wish he'd played more.
Wallywagon11: I can name quite a few pickups I liked but then again I have been involved in 28 free agent pickups and nine different trades and I rarely focus on whether I get the better end of a deal and more on what I need. In describing my post draft moves, I think of it this way: I turned Brook Lopez's injury reserve spot, Jrue Holiday, Jarret Jack, Chris Kaman, Anderson Varejao, Omri Casspi, Emeka Okafor, and Amir Johnson into Pau Gasol, Greg Monroe, Javale McGee, Mike Conley, Ricky Rubio, Paul Pierce, Stephen Jackson, and Reggie Williams. I think I did okay there.
Any Moves You Did Not Make That You Regret? Any Moves You Wanted To Make That You Are Glad You Did Not?
Lurk: At lunch last week I saw that LightningStrike5 offered Deron Williams, Barbosa, and Amir Johnson for Holiday, Hedo, and Biyombo. By the time I could accept he already canceled it.
J.R 50: No trade of recent, but there was a deal in place, where i would give up Jennings and i would receive a top 5 PF/C, couldnt pull the trigger though.
Aykis16: I haven't done a trade yet because none of the offers I've received have been very good. I've received one trade offer for Dwight Howard, and one of those features two guys who have been cut by their respective team. The most interesting trade offer I received was Deron Williams, Amir Johnson, and George Hill for Tony Parker, Tyson Chandler and Brandon Rush. I saw Deron's name and immediately was intrigued. But after thinking about it for a few minutes, it was an easy trade to decline. Tony Parker has actually been a better player than Williams to date so far aside from three point shooting. Tyson Chandler is way better than Amir Johnson, and Rush (a guy I picked up off the waiver wire) has been better for Golden State than Hill has been for Indiana.
Wallywagon11: I have been a part of 57 proposed trades, 41 of which were proposed by me. I'm pretty lucky some of the early trades did not go through. I was rejected when I offered Anderson Varejao (who I later used to get Ricky Rubio) for Wesley Matthews and thank goodness for that. However, I really dodged a bullet when I offered Greg Monroe (the first time I owned him) for Raymond Felton but it was not accepted by ASSN. And finally, I got really lucky that J.R 50 did not accept Spencer Hawes for Boris Diaw because one day later I was able to move Hawes (along with Gerald Henderson) for Paul Pierce.
How Do You Feel About Your Team Today As Opposed To After The Draft
LightningStrike5: I missed most of the draft because I was in commute back from work. When I got on, I'd found that my carefully set up auto action plan had backfired- I'd signed DWill, Love, Rudy Gay and Marcus Thornton and had nearly no money left. Post draft, the CPU told us I was the worst team that had been drafted. In my defense... well, no. It was my own goddamn fault that I'd set it up to overpay, especially for Thornton. But it's all pretty much worked out... I'm somehow NOT last in the league, amazingly with a handful of solid pickups (Sammy D, the Matrix, Nick Young, Tony Allen) I'm actually fourth! I can't believe it. I thought I was dead in the water.

Wallywagon11: I am a little shallow at the wing spots still but I love my team now and if it weren't for the Paul Pierce trade I am not sure I would be able to make the moves I made because now I don't have to worry about needing a C.J. Miles type guy to go through a hot streak. Basically all my wings can score 15 points per game, shoot free throws, rebound okay, hit 3s, get steals, and I have a little block and assist bonus (fingers crossed on Gallo). Right now I have four of the top 13 AST contributors in the league and that fourth guy is Chris Paul. In STLs I have three of the top four, Chris Paul at 11th and the top ranked big man Greg Monroe at 15th. With BLKs I have the two highest rated players with McGee and Ibaka. As for percentages, injuries are going to be a little bit of a problem but they aren't weaknesses. Usually with FG% I try to hit 46% and my top 11 players are at 45.96% and if Brook Lopez where to return to 2010-2011 form my top 12 would be around 46.3%. As for FT%, I have the highest ranked player with Gallo but now that he is hurt hopefully I can stay in the middle of the pack because the only real negative there that I have is McGee. As for PTS, RBs, and 3PM I think I can compete with anyone. The stat I come closest to punting is TOVs and that's a good problem.
J.R 50: I really like my team right now, i feel like Rebounds is a constant struggle but ive been winning in that category lately. I always give up the FT% and FG% and just throw those out the window, they fluctuate every week every game so if i win, great, if not it doesnt bother me. But i feel like i have a team that is strong and can make post regular season fantasy play.
Clicc916: I'd say my team is better now than after the draft. I'm a little more well-rounded now, but I still am underwhelming in a lot of stats. My team is JUST good enough to be competitive but ultimately falls apart at the end because I have too many roleplayer-type guys (as in, these guys are actual role players on their respective NBA team). Roleplayers are not always consistent and they definitely will not get you the numbers you seek. But at least Chandler Parsons is doing more for me than Lamar Odom. Read that last sentence again. PARSONS > ODOM, YAY I GUESS. That is all you need to know about my team.
Strategy
Wallywagon11: Point guards and powerforwards with an emphasis on cheap blocks, only pay for rebounds if it is Kevin Love and I missed out on an elite point guard, and staying away from Dwight Howard and Blake Griffin and letting someone else spend all of their cash to punt categories with Blake Griifin and Dwight Howard (good luck recovering from a -5 to a -9 in a category). Oh and don't be afraid to trade early in the year because there is a lot of chaos and great free agent picks who just needed minutes.
Clicc916
I think this is the most important thing you can think about if you are serious with fantasy teams. You have to pick a strategy and stick to it. You find certain types of guys and get other guys to compliment their stats.

That said, I was a deer-in-the-headlights on draft night. Auction drafts—that sh!t cray! You have people fluffing up the value of players and overlooking known studs (David West for $6? Damn you and your ninjery, Aykis!). You have people spending for the sake of spending (more applicable during the later rounds when less marquee players are available and more GMs still have a lot of money). You have people ridiculing you for choices you've made (I swear, Kyle Korver AND Rip Hamilton were going to KILL IT this year before reality set in).

I had a plan—a few different strategies, in fact. However, all the strategies I had were dependent on the few rocks that I'd pick. You all know that if you get Dwight Howard, you're going to have to punt FT%. If you get Lebron James or Kevin Durant, you are pretty much free to choose anyone else since they give you such good stats. You find the guy(s) that get you monster stats every night and fill in the gaps. Easy right?

Did I mention that I was late to the draft? By the time I joined, I already bought Kobe Bryant and John Wall. I was also getting Lamar Odom. So what do you do after you have those three guys? You draft the best available player. I was able to get Al Horford and Marc Gasol…but everyone after that was kind of "meh" material. I drafted Kyle Korver and Rip Hamilton for 3PT, Jameer Nelson and Darren Collison for assists and FT%, and Nic Batum and Jamal Crawford because Trailblazers, yo. You have to understand that on paper, prior to the season, many guys were considered worthy of fantasy playing time (see, Nelson). So you, as the GM, make decisions on last year's stats and this year's playing situations. That's all you can do.

You've probably noticed I haven't written much about John Wall nor Kobe Bryant. Kobe's actually giving me decent stats—his FG% is up this year even though he's taking more shots, his assists are up, and he's getting massive playing time. Wall has FG% problems but he can also get you near triple double stats every night, however he can also almost get you quadruple double stats when you count turnovers. Wall's underperformed, and Kobe's overachieved. They both give me numbers I like, but leave me wanting more. And also, Kobe Bryant. I feel like I've sinned for even having him on my team. But damn, I need his stats.

To sum it up, I was dealt two players who were good-to-great individually, but didn't dominate in any one category. My initial strategy of picking one of a few guys was busted so I resorted to getting who I thought was the best available player that could compliment two players I had drafted. I ended up missing on some players that would have given me better stats, night-to-night. And now I'm stuck in mediocrity, hoping for players I have to get extended minutes/production (we need more Chandler Parsons 360-facials) and excited to pick up players like Austin Daye (IT'S DAYE-O TIME!). So basically, yeah, the Kings.

ASSN: I'm not sure that I really had much of a strategy going into the draft, other than that I decided to stay out of the bidding for the top guys that went for $70 or $80. I figured I could get a couple of really good players for what it would cost for one of those top guys, and worried that a top-heavy roster would leave me too vulnerable to injuries. This was my first auction draft, and I didn't put much time into preparing for it until a couple of hours before it happened when I crammed in a few mocks. It wouldn't have been too hard to do some research and get a better idea of who to bid on and who to stay away from instead of just basing it on my general impressions of players. I'm already looking forward to next year's draft and thinking about who I'll be trying to steal away from the rest of you, though I'm sure I won't be the only one who is hoping to be more prepared next time. J.R 50: Personally, I like players who do multiple things. I see my team in Rotisserie style, where i like guys who contribute in multiple categories. I love guys like Iggy and Josh smith. As i mentioned prior, i dont care about having a team suited to win the FG, FT battle. You just CANT have a team thatll win every week, a team/players FG FT is so crazy you cant determine it.
AND THAT ABOUT WRAPS IT UP FOR NOW. GO KINGS!