When we closed out the prior part of the series, we were exposed to the awesome Photoshop abilities of soysauce and "Saving Sacramento" which garnered 83 recs. Would anything top that?

Well, folks, buckle up for round four, where we start getting into the month of April, where we gain some whales, but we also face the prospect of losing a Main Whale. Thrills! Chills! Spills! A 10,000th comment! GIFs! Cross-Country RV Tours! What else could we wish for?

We start first in an epic thread (generating seven contestants in the LookBack) where it is announced by KJ that a term sheet has been agreed to by all interested parties to build the new ESC at Downtown Plaza, as can be seen from KJ's twitter feed...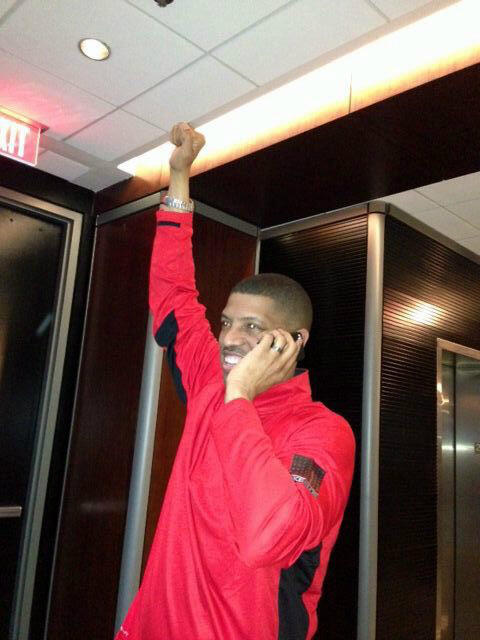 214 brought us a 24th Century impression of the StR community's reaction...



Dak had another take on the above image of Da Mayor...



A Spurs fan dropped by with a small request...



Dak evidently had his meme generator working full-time...



Fireplug had a suggestion for an addition to the rafters at STA...



...while Rob336 provided us some props from some no-name guy from an obscure midwestern tacklysmash team...



214 decided some perspective was in order on the Seattle-versus-Sacramento issue that was building...



Ziller then did a post explaining in great detail on the reasons why the 2013 deal is better than the prior one that Maloofs torpedoed last year. The main reason why the 2013 deal is better was pretty clear for most people to see...



...meanwhile 10333 pretty much pegged the NBA thought process more than a month in advance...

We go now to the thread in which Paul Jacobs, CEO of Qualcomm, is introduced into the Ranadive group. Prowse took note of the rather, uh, "widespread" makeup of the ownership group...



A Seattle NBA Fan chimed in with his take on the situation...



Of course, 214 asked the question that's on everybody's mind...



...while wrobinson91 from Conquest Chronicles did some 'shop combining KJ and Shaq-fu. I'm not exactly sure how I feel about that, but the StR community liked it just fine...



One of our guys went onto (that other site) to check their reaction, and prowse let Chuck provide the requisite response to the silliness displayed there...

Kromeace gave a quick weather check for both cities on the announcement...



We go forward into the thread in which KXTV-10 got the first local interview with Vivek since the announcement of his bid to take over the team. Resident 'shop genius soysauce let fly with another poster that's just chock-full of goodies...



As we get into the thread where the City Council approved the arena term sheet, Mechanical Shift got on the board by getting his 'shop skillz in good order...



In the article where Marc Stein of ESPN reported that Sacramento's bid to keep the Kings is gaining traction, kromeace wondered whether it was time to "retire" the FTM. Carpeteria agreed, but also disagreed...



We go forward a few days to the thread where Ziller explains the importance of the India connection to the future of the Kings, thanks to the presence of Vivek. ElRonToro took the occasion of his 10,000th post to thank all of us and to remind us for which we fight...



In the thread where we meet the 12 members of the combined finance and relocation committee, we find out that George Maloof would be going to New York and speaking on behalf of the Hansen-Ballmer group. Kromeace and bignerd combined for an epic one-two piling of dung upon George's head...



KingsFanNoMatterWhat had a bit of a different take on how George would get to New York...



A significant milestone is achieved...



We finally get to the early part of April, when we think we will finally get some closure one way or the other on the relocation issue. Aykis wrote an outstanding article on why the NBA's decision was now or never for Sacramento, but not for Seattle. Dub_TC explained what the long-term effect of the decision would be for him personally...



...while Gabraham made sure to offer a fellow poster some congrats on what really matters in life...



Later on, we find out who will make a local offer on the Bob Cook 7% stake of the team that's caught up in bankruptcy, and TheFault loves whomever that may be.



In the Relocation Committee Open Thread, we get another picture of the Crown Downtown crew there representing the living shit out of Sacramento...



Hypothetical Self had an update from that very occasion...



More St. Regis photographic evidence...



Looks like C-Dave and the PTW Tour bus made it in time for the party...



A Table Full of Excellence...



In a subsequent thread discussing the arena timelines, bvdzag gave his opinion on which way things should lean...

.

A SeaTroll stopped by to provide his input, and IChristmas promptly dropped him with one shot...


Rubenho was evidently good and ready to pop his Fukitol pill...


Of course, even the biggest arrow in our quiver (AB900) had to get a little bend in this process, right? Well, we can always depend on prowse to give us the good news in any situation...


Much to digest there, friends. In the upcoming Part Five, we endure delays, angst, twitter wars between reporters, the inevitable darkness before the dawn, but at long last we achieve clarity and victory. Stay tuned for the upcoming (and final) Look Back In Humor.