It's that time of year again when Sacramento Kings fans wake up from their offseason slumber to have their hopes and dreams shattered by the bounce of some ping pong balls.  So how does it work, and when does it start?
The When:
5:00 - 5:30 pm Pacific on ESPN
We will also be hosting an open thread here on Sactown Royalty starting at 4:00 pm.
The Kings "Chances" According to "Math":
The Kings are currently in the 6th slot as per the team record.  The Draft Lottery is held for the Top 3 picks, and the rest of the order is determined by team record.  The Kings have the following chances:
#1 pick (6.3%)
#2 pick (7.1%)
#3 pick (8.1%)
#6 pick (44%)
#7 pick (30.5%)
#8 pick (4.0%)
#9 pick (0.1%)
Here's our chances visualized: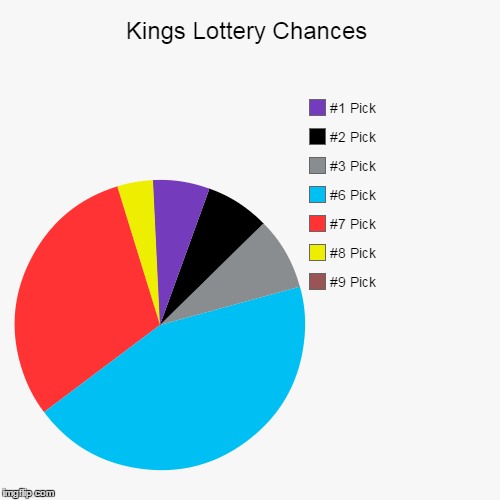 Who's Representing Us?:
That would be Kings legend and new Vice President of Basketball and Franchise Operations, Vlade Divac.  If Vlade brings us home a top three pick, we might as well just retire his jersey again.
The Order We Want to Hear:
The NBA Lottery results are announced in reverse order.  As such we want to hear the following teams in order: Oklahoma City, Phoenix, Utah, Indiana, Miami, Charlotte, Detroit, and Denver.  If one of those teams is not announced in that order, that means they have jumped, reducing Sacramento's chance of jumping up and increasing the chance that we have dropped.  If we hear that order and the next team is NOT the Sacramento Kings, that means we have jumped up into the Top 3.
What to Do When Kings Don't Jump and Lakers Do:
Happy Draft Lottery Day everyone!